Is it easy to win the Basketball Stars game? The answer is no. The game offers easy gameplay, but winning the game isn't simple. You have to shoot the ball into your opponent's hoop. Each shot for 2 points. You must get more points than your opponents before running out of time. Throwing the basketball into the basket is not easy as you think. First, your opponents can block your shot and secondly steal the ball from you. To be the winner, you need to correctly calculate the force. When enjoying the match, don't only concentrate on scoring. Defense is also very important. You should be willing to block the opponent's attack. Protect your hoop from the other team. Let's explore more interesting information now!
Basketball Stars gameplay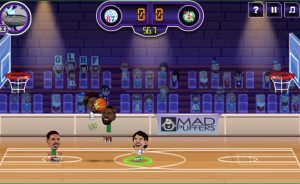 To get victory, the first thing is to familiarize yourself with the rule of the game. If you are a big fan of the NBA league, you will know the rule of this game. However, they aren't complex as NBA's rules. Each match will last for 1 minute. You can see the time under the score table in the match. The gameplay can be divided into two roles: attack and defense. Therefore, you need to effectively combine 2 roles. When the opponent gets the ball, try your best to steal it. Don't forget to block the jump shot of the opposite team. Besides defense, you also play offensively to get points. Use your basketball skills to bounce the ball past the opponents. Then, come close to the hoop and make a dunk. The more points you get, the more chance to defeat the opponent. If you play with another teammate, let's combine well.
Defeat your opponent with some useful notes
The distance between the player and the basket is quite important. If you come closer to the hoop, you can throw the ball more correctly.
Try your best to keep the ball and avoid being stolen ball by opponents.
Since you have more points when the time is coming to an end, it will be better to just defend.
Each player has special skills like a mega dunk, defense, and a fast break. Therefore, let's utilize it to bring home the trophy for you.
Selecting your favorite basketball stars before entering a tournament is also motivation to win the matches. However, you can experience the different skills of many other stars.
The game is a 2-player game, so your opponents can be your friends or relatives. However, don't condescend to them the championship!
The game mode of Basketball Stars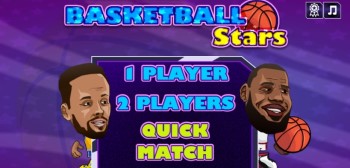 Do you usually play basketball alone or with teammates? In this game, you can play basketball single or on a team. There are three available modes in the Basketball Stars mod menu. including 1 player, 2 players, and a quick match. Each mode has unique features to experience. We will explore these modes now.
1 player mode
Although basketball is a team sport, you can play by yourself in the Basketball Stars game. Select 1 player to play single. When coming in this round, you can select one of three sub-modes: Tournament, Random Match, and Training.
If you are not familiar with the operations or gameplay, you can improve your abilities in the Training sub-mode. There isn't a limited time or opponents in this sub-mode.
In Random Match, you can enter the field with one member or two members. Although there is one player or two players in your team, you only have to control one character. Then, you will enter a random match with any opponent over the world.
In Tournament mode, you also have the chance to choose to play with one character or two characters in a team like Random Match. One different thing is you will compete with eight other teams through 3 rounds: quarter-finals, semi-finals, and final. The rule is you must overcome the previous round to unlock the next game. If you lose in the first round, you have to restart the other tournament. One more thing, normal or hard mode is available for you to try.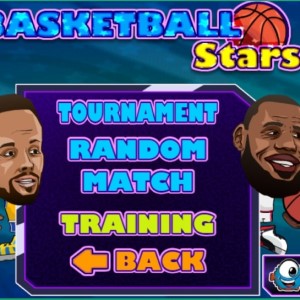 2 players mode
This mode is better for two people in Basketball Star. You can be teammates or compete even together which is up to the sub-modes. There are three sub-modes which are 1vs1, 2vs2, and 2vs2CPU.
In 1vs1, you can control both characters simultaneously in two different teams to battle with each other within 1 minute. It means you and your friend will be opponents together.
You and your friend are still opponents like 1vs 1 sub-mode. However, you will play in a team of two members. Of course, you won't control both members in one team, you just steer one of them. Your friend in the opponent team will have a role like you.
The number of teams in the 2vs2CPU will be the same as in the 2vs2. The special thing is you and your friend will be teammates. It sounds interesting. Now, you have to effectively combine and defeat the CPU. Be careful when the CPU also has great Basketball skills.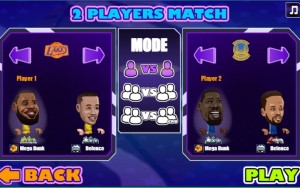 Quick Match mode in Basketball Stars
As the name of this mode, you will have quick matches with other opponents over the world. Of course, there is no choice of basketball stars, single or 2-player mode. The player will be random. Moreover, this mode is for single players. Although there are some unique features, it has the same rules as other modes such as limited time, and scoring points.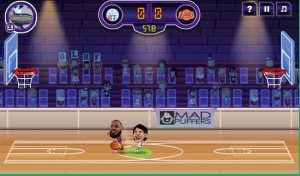 FAQ
Is the Basketball Stars unblocked at school?
Yes, you can have fun with your friends at school when playing this game.
Is Basketball Stars available for free?
Yes, of course. You can play all modes, and choose any players for free.
Can I play Basketball Stars on my tablet?
Yes, you can.
Can children play Basketball Stars?
Yes, it also helps them enhance their reaction.
How to control
Player One
WASD key to move
B to shoot or perform an action
S to pump
V to super-shot
D twice to dash
Player Two
Arrow keys to move
L to shoot or perform an action
DOWN Arrow to pump
K to super-shot
LEFT Arrow twice to dash